14 Nov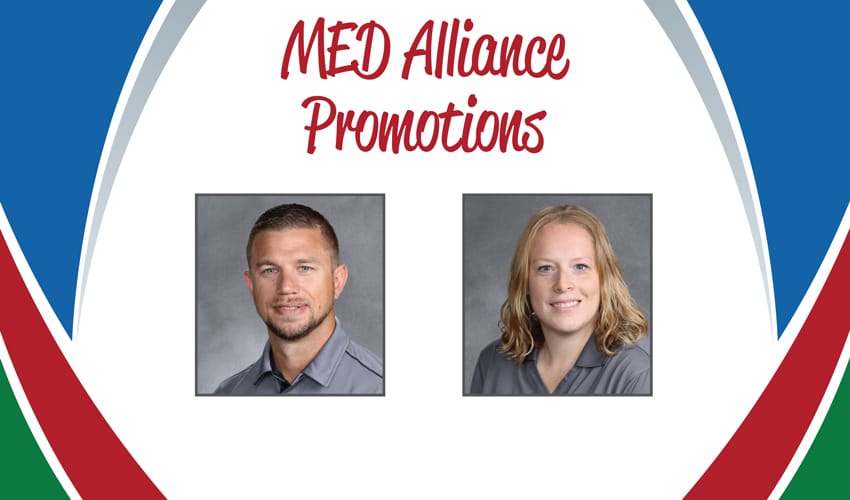 MED Alliance Promotes Two in the Coming Year
MED Alliance is pleased to announce two well-deserved promotions effective January 1, 2020. Mike Schroeder will move into the role of President and Lindsey Allende will serve as Vice President of Finance and Operations.
Mike Crawford will maintain ownership and serve as Chief Executive Officer of the 21-year old medical device distribution company.
"After more than four years as Vice President of Sales, Mike has gradually taken on additional responsibilities to assist me in the overall strategy, growth and management of MED Alliance," said MED Alliance Owner Mike Crawford. "In doing so, Mike has demonstrated a great commitment to our manufacturing partners, sales representatives and staff."
Schroeder came to MED Alliance in September 2015 with a great deal of sales experience in the manufacturing industry. His background has proven helpful in developing new and maintaining current relationships with the diverse medical device manufacturing partners of MED Alliance Group, MED Alliance Solutions and MED Alliance International. He has worked to strengthen our sales team of more than 45 representatives across the U.S. by ensuring they have the resources and support they need to succeed.
"Lindsey has been with MED Alliance for more than 13 years and is the one who keeps MED Alliance running like a well-oiled machine," said Crawford. "She has consistently taken on additional responsibilities whenever asked, and always when needed."
Lindsey came to MED Alliance in June 2006 as an Operations Coordinator. She now oversees the finances, ISO quality system, SAP, customer service, warehouse, and much more. Lindsey is dedicated to ensuring that our partners, sales teams and customers receive what is needed when it is needed.
"I have complete confidence Mike and Lindsey will continue to do great things at MED Alliance," said Crawford. "I encourage everyone to join us in congratulating them on their accomplishments."
MED Alliance is an ISO 13485 certified medical device distributor specializing in the sales, marketing, importation, logistics and distribution of innovative, high-quality and cost-effective medical devices. Centrally located in the Midwest, we are dedicated to meeting the needs of our clinical customers and manufacturing partners.